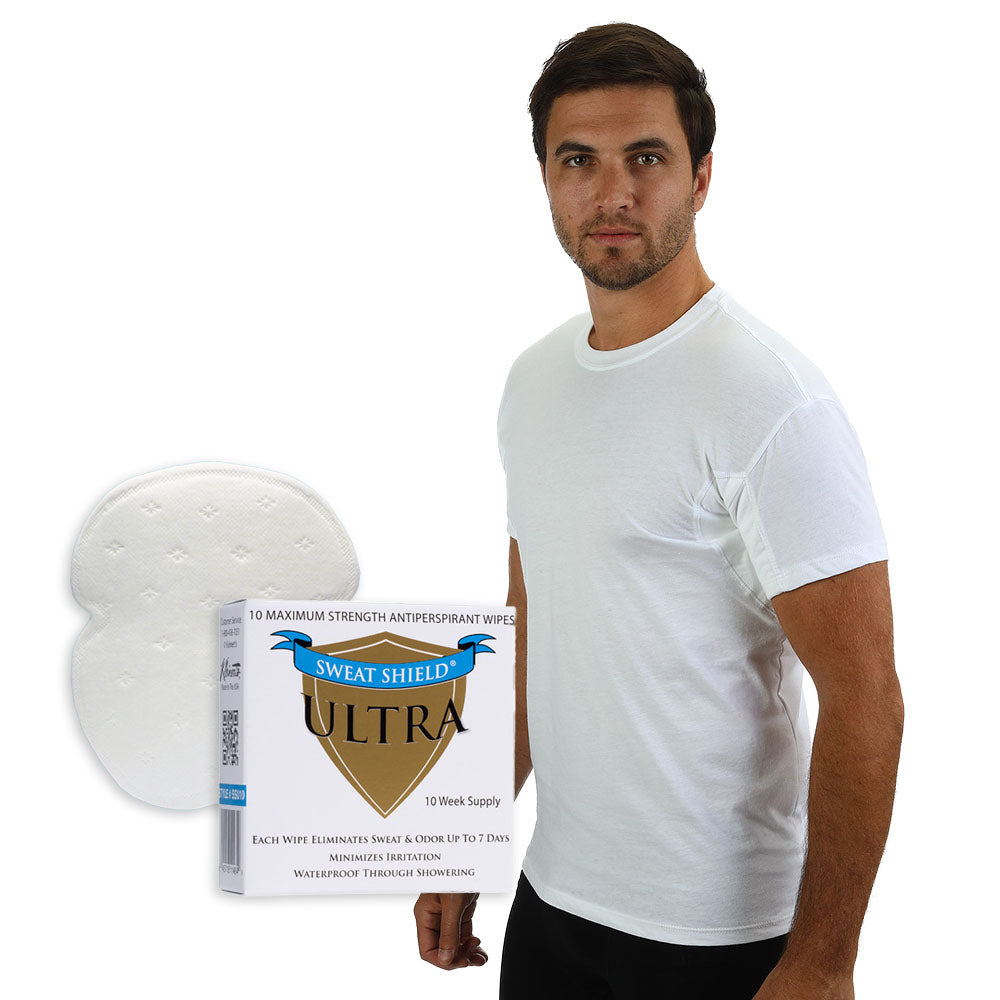 dghdfgfg
Mens Starter Kit For Light-Moderate Sweating
$65.97
Suggested Sample Starter Kits For Men (Light to Moderate Underarm Sweating Protection)
1 Pack Of #MW-4903 Disposable Absorbent Underarm Shields 12 Pair (With 3 Tapes)
12 Pair (24 shields) of highly absorbent, peel & stick, noiseless, thin, discreet, convenient, easily applied disposable unisex underarm shields which adhere (peel & stick) securely to all fabrics including silks providing outstanding protection from sweat, odors and wet-thru clothing staining. Each underarm pad has 3 wide and strong adhesive peel-off strips which will stay securely placed all day long better than any other disposable product made. One size fits all. For men and Women.
Men's Regular Fit Crew Neck Undershirt With Absorbent, Sweat-Proof, Enlarged, Sewn-In Underarm Shields
This lightweight, the patented undershirt is the most comfortable, best constructed and most effective undershirt made for sweat-proof protection against underarm sweating and odors! The body of these undershirts are made with soft, premium 100% ring-spun cotton (the finest available). Each garment is also professionally hand-sewn.
Sweat cannot pass through our enlarged, sweat-proof, multi-layered, comfortable, undetectable, underarm shields. These shields are integrated into each undershirt for utmost comfort and functionality.
Sweat Shield Ultra Antiperspirant Wipes. Stop Sweating & Odor For Up To 7 Days. 10 Week Supply- Doctor Recommended
So imagine a solution to your many years of anxiety about waving, working, dating, hugging or just being yourself WITHOUT those embarrassing underarm sweat marks and wet spots betraying you.
You may have thought that it was caused by nerves, anxiety, hyperhidrosis or hormones. Regardless of the cause, Sweat Shield Ultra Clinical Strength Antiperspirant is prepared to keep you dry, comfortable, and confident guaranteed 24 x 7.
Sweat Shield Ultra is a trade-secret formula pre-soaked on a soft towelette (like at a restaurant).
Sweat Shield® Ultra is an advanced 4" x 4" saturated, wet-wipe pad with a specially formulated 15% aluminum chloride antiperspirant liquid formula (the maximum allowed without a prescription by the FDA to control underarm sweating and odor).
Each wet wipe is hypoallergenic and very effective in stopping excessive underarm sweating and underarm odors for up to 7 days (depending on your body chemistry). 94% of people claim that one application lasts for 6 to 7 days.
Great For You and Your Groomsmen and Everyday Use!