MENS 100% WATER-PROOF
PULL-ON INCONTINENCE PANTS AND UNDERWEAR

Our light weight yet highly durable water-proof and heat-proof DuraCool® incontinence pant will provide better skin care yet prevent urine leakage and soiled bed linen better than any other product! Use over disposable diaper reusable diaper/disposable underwear/guard/ liners or pads for complete protection of your clothing or bed linen!

If suffering from light to moderate ambulatory incontinence due to surgery complications, swollen prostate or loss of bladder control, our DuraCool pants look natural while keeping you dry and comfortable.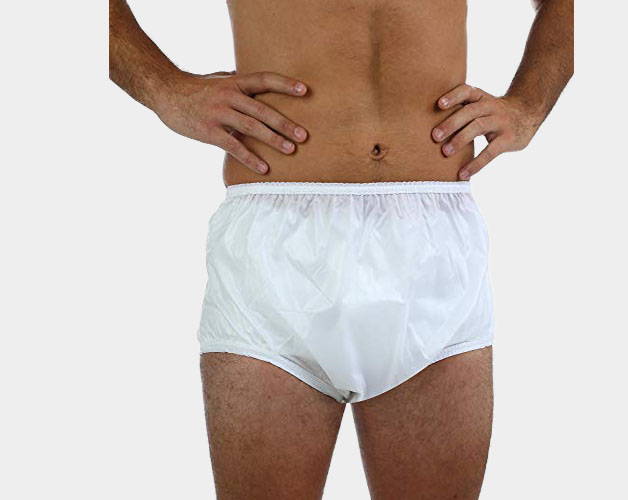 DURACOOL® WATER-PROOF, HEAT-PROOF PULL-ON PANTS FOR MODERATE-HEAVY AMBULATORY OR BEDBOUND INCONTINENCE
Patented design and advanced construction provide the highest quality water-proof incontinence pull-on pants made. Heatless (For better skin integrity), Quiet
and latex free construction guarantees complete protection day and night.


MEN'S BOXERS & BRIEFS WITH ADVANCED, ABSORBENT/WATER-PROOF PANELS FOR LIGHT-MODERATE INCONTINENCE CONTROL
Patented multi-layered absorbent design and construction provide the highest quality men's incontinence underwear made. Constructed of 100% premium interlock cotton and treated with our proprietary Fabrapel formula making each garment water-repellent, stain repellent and odor-repellant.

PATENTED SWEAT-PROOF TECHNOLOGY
GUARANTEED

TO BLOCK 100% OF SWEAT!
The Kleinert's Double Guarantee
We guarantee to provide the highest quality, most effective undershirt products to address the problems of sweat and odor control. We use advanced materials, design and labor components. Because we provide an enlarged water-proof underarm shield, we are confident that no sweat will pass through. These products represet a significant value above and beyond our competitors. If you are not satisfied for any reason please return the product unwashed and unworn for a refund within 30 days of receipt.